Return to Nav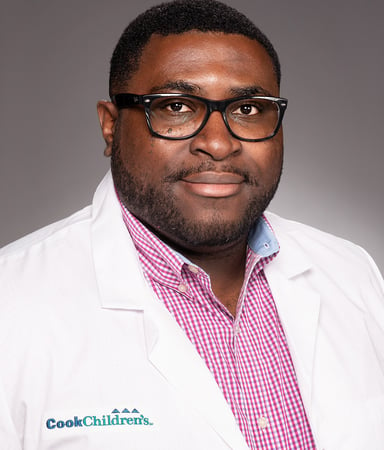 Anthony O. Anani

, MD, MBA, MPH
Medical Director for Clinical Services
Meet Dr. Anthony O. Anani
The gastrointestinal (GI) tract is an essential part of what makes us human. Our ability to share a meal with family and friends, to grow to our full potential and to excrete waste products from the body, is very dependent on a healthy GI tract. But when something isn't working correctly, it can cause a lot of health and growth problems.
I've always had an interest in how the GI tract works, and especially how it impacts children. It's a privilege to care for kids with these issues and help them achieve their God given potential. I joined Cook Children's in 2019, and really enjoy the ability to collaborate with other clinicians and care providers to help the children we care for get well and stay out of the hospital. Caring for children is such a rewarding experience and I'm grateful I get the opportunity to do that every day at work.
When I'm not spending time with kids and families at Cook Children's, I can be found spending time with my own kids and family. I also enjoy sports, especially basketball, and look forward to hearing all about the sporting and academic achievements of my patients.
Services
Breath testing for dietary carbohydrate intolerances

Diagnostic and therapeutic endoscopy and colonoscopy

PH/impedance probes

Rectal biopsies

Wireless capsule endoscopy
Affiliations
American Academy of Pediatrics (Fellow), North American Society for Pediatric Gastroenterology (member),Cook Children's Physician Network
Education
Medical School:
University College Hospital, University of Ibadan, Oyo State, Nigeria; Emory University, Atlanta, GA
Residency:
Cleveland Clinic Children's, Cleveland, Ohio
Board Certifications:
American Board of Pediatrics

American Board of Pediatric Gastroenterology
Research & Publications
Publications:
Rifai G, Anani A, et al, Liver Transplantation for Hepatitis B in Early Adulthood: Analysis of U.N.O.S Database.Transplant Proc. 2016
Bhesania N, Anani A, et al, Vomiting in a 2 year old with a "twist"-undiagnosed gastric volvulus, Image of the month, J Pediatr Gastroenterol Nutr. 2015 Mar 17. [Epub ahead of print]
Anani A, Gonzalez B, Krishna S. Shoulder dislocation in a newborn www.pediatricsconsultantlive.com 2011 Oct.
Media:
Anani A, Goebel B, Osterman A, Prince J. SmartStart Birth Kits: Empowering Women, Delivering Health. Poster/Proposal presentation at Global Social Entrepreneurship Competition (GSEC). Seattle, WA. February 2008
Anani, A. Integration of Neglected Tropical Diseases Control Programs in Endemic Nations: A Review of Empirical Studies on Integration in Business Literature and its Implications to Integration Strategies to Control of Neglected Tropical Diseases. Thesis poster presentation, Rollins School of Public Health Emory University; Atlanta GA 05/2009
Anani A, Hupertz V, DiFiore J W, Mahajan L. Video Capsule Endoscopy in the Diagnosis of Obscure Gastrointestinal Bleeding in a Child. Poster presentation at North American Society for Pediatric Gastroenterology, Hepatology and Nutrition Annual Scientific Meeting 2011; Orlando, Fl. 10/2011
Anani A, Collyer E, Wyneski M, Moses J. Utility of Magnetic Resonance Enterography for Detecting Extraluminal Pathologies in Pediatric Inflammatory Bowel Disease. Poster presentation at North American Society for Pediatric Gastroenterology, Hepatology and Nutrition Annual Scientific Meeting 2014; Atlanta, Georgia. 10/2014
Anani A, Park E, Udayasankan U, Magnuson D, Hanna R, Radhakrishnan K. Unusual Presentation of Dysphagia in a 17 year old male; Hodgkin's Lymphoma with Esophageal Communication or Esophageal Duplication Cyst and Hodgkin's Lymphoma. Poster presentation at North American Society for Pediatric Gastroenterology, Hepatology and Nutrition Annual Scientific Meeting 2014 Atlanta, Georgia. 10/2014
Collyer E, Patel S, Anani A, Lappé S, Grove D, Dweik R, Alkhouri N. Analysis of Volatile Organic Compounds in the Exhaled Breath of Patients with Celiac Disease. Poster presentation at 2015 AAP National Conference and Exhibition, Washington DC October 2015
Anani A, Hanouneh I, Mohamad B, Matloob A, Lopez R, Zein N, Alkhouri N. Hepatitis B Infection In Children Can Progress To End-Stage Liver Disease Requiring Liver Transplantation In Early Adulthood: Analysis Of The Unos Database. Poster presentation at North American Society for Pediatric Gastroenterology, Hepatology and Nutrition Annual Scientific Meeting 2015, Washington DC October 2015 (Poster of distinction)
Selvakumar P, Anani A, Maksimak B, Liu X, Hupertz V. Small Bowel Hemangioma Presenting As Gastrointestinal Bleeding In A Teenage Patient. Poster presentation at North American Society for Pediatric Gastroenterology, Hepatology and Nutrition Annual Scientific Meeting 2015, Washington DC October 2015
Collyer E, Anani A, Patel S, Lopez R, Dweik R, Grove D, and Alkhouri N. "Analysis of Exhaled Breath Volatile Organic Compound Can Be Used to Differentiate Children With Celiac Disease From Healthy Controls" Poster Presentation at Digestive Disease Week; San Diego, CA. May 2016Collyer E, Anani A, , Patel S, Lopez R, Dweik R, Grove D, and Alkhouri N. "Analysis of Exhaled Breath Volatile Organic Compound Can Be Used to Differentiate Children With Celiac Disease From Healthy Controls" Oral Presentation at Cleveland Clinic Children's Pediatric Research Day; Cleveland, OH 5/10/2016
Anani A, Collyer E, Mahajan L. "The use of smart applications to reduce pre-procedural anxiety in pediatric patients undergoing outpatient endoscopy" Oral Presentation at Cleveland Clinic Children's Pediatric Research Day; Cleveland, OH 5/10/2016
Anani A, Collyer E, Mahajan L. "Immunization rates for PPSV23 (Pneumovax) in immunocompromised pediatric patients with Inflammatory Bowel Disease: Room for Improvement" Poster Presentation at Cleveland Clinic Children's Pediatric Research Day; Cleveland, OH 5/10/2016