Return to Nav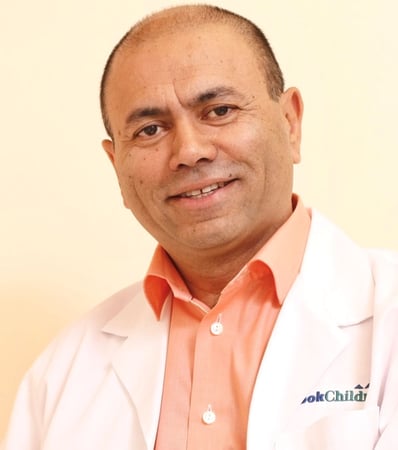 Dr. Saleem I. Malik
Medical Director, Comprehensive Epilepsy Program
Meet Dr. Saleem I. Malik
I have been practicing child neurology/epilepsy for over 20 years, and still, the best part of my job is that every day I get to meet amazing kids. Even before medical school I knew I would practice pediatric medicine.
I'm very passionate about treating epilepsy in children. Many of the families I see travel from far away to seek help for their children. And whether they come from near or far, there's nothing more gratifying than seeing hope on the faces of parents whose children have difficult to treat epilepsy.
I'm board certified in pediatrics, child neurology, clinical neurophysiology and epilepsy.
I have two boys at home who and I enjoy spending time with them every day. In addition to my family, traveling and racquetball are my favorite pastimes.
Services
Pediatric neurology

MEG scan

EEG/video EEG

Intra-operative monitoring
Affiliations
American Epilepsy Society,American Clinical MEG Society,Child Neurology Society,Cook Children's Physician Network
Education
Medical School:
Ayub Medical College, Pakistan
Board Certifications:
Pediatrics

Psychiatry & Neurology

Clinical Neurophysiology
Recognitions:
Outstanding Fellow of the Year (2000 - Children's Hospital of Pittsburgh)
Research & Publications
​Malik S, Painter MJ. Practical Strategies in Pediatric Diagnosis and Therapy. 2nd ed. Philadelphia: Elsevier Sanders; c2004. Chapter 38, Hypotonia and Weakness; p. 651-671.
Perry MS, Bailey JB, Kotecha CA, Malik S, Hernandez AW. Amantadine for the treatment of refractory absence seizures in children. J Pediatric Neurology. Accepted for publication (Reference# PNU 7732) 2012.
Malik S, Hernandez A. Peri-Ictal Magnetic Resonance Imaging Signal Abnormalities: Do They Exist? Correspondence response. J Pediatric Neurology. 2012 Feb; 46(2):137–138.
Perry S, Hernandez A, Malik S, Wright R, Alles A, Donahue D. Dravet syndrome associated with cortical dysplasia of Taylor type. J Pediatric Neurology. Forthcoming 2011.
Malik S, Hernandez A. Peri-ictal imaging in Focal Status Epilepticus. Pediatric Neurology. 2011 Aug; 45(2):138-139
Lupashko S, Malik S, Donahue D, Hernandez A, and Perry S. Palliative functional hemispherectomy for treatment of refractory status epilepticus associated with Alper's disease. Childs Nervous System. 27(8): 1321-1323.
Murray J, Donahue D, Malik S, Dzurik Y, Braly E, Dougherty, M, Eaton K, Biegel J. Temporal lobe pleomorphic xanthoastrocytoma and acquired BRAF mutation in an adolescent with the constitutional 22q11.2 deletion syndrome. Jnl Neurooncology. 2011 May; 102(3):509-14. Epub 2010 Aug 21.
Donahue D, Sanchez R, Hernandez A, Malik S, Black T, Honeycutt J. Preservation of a subcutaneous pocket for vagus nerve stimulation pulse generator during magnetoencephalography. Technical note. Jnl Neurosurgery. 2007;107(6 Suppl.): 519-520. (Pub Med ID 18154026)
Pless M, Malik S. Relapsing-Remitting, Corticosteroid Sensitive, Varicella Zoster Optic Neuritis. Pediatric Neurology. 2003 Nov; 29(5):422-424.
Malik S, Painter MJ, Alvin J. Clinical Application of Stable Isotope Labeled Phenobarbital and Dilantin to Study Disposition in Neonates. Pediatric Neurology. 2003 Nov; 29(5):376-380.
Patient Ratings
Is there anyone you would like to recognize or anything else you would like to say about your experience?