Return to Nav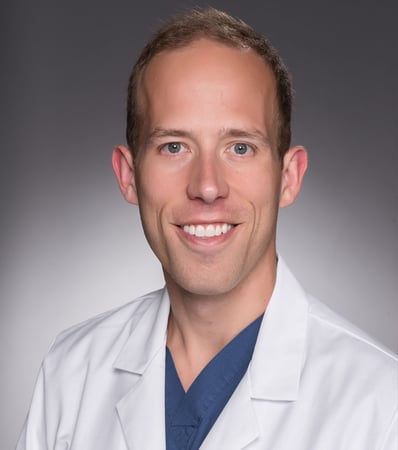 Dr. Daniel Hansen
Medical Director, Neuro-Trauma; Neurosurgeon
Meet Dr. Daniel Hansen
Dr. Daniel Hansen hails from the land of the Jayhawks (Kansas) and has bounced throughout the midwest during his medical career. He completed his medical training through the University of Kansas Medical School in both Kansas City and Wichita. From there he moved north to the field of dreams (Iowa) to complete his neurosurgery residency at the University of Iowa Hospital and Clinics. His travels next took him to that great city to the south, Houston, where he completed a fellowship in pediatric neurosurgery through Texas Children's Hospital. During his training he serendipitously m​et the neurosurgery group at Cook Children's, and as they say, the rest is history. He joined the practice at Cook Children's Medical Center in 2016 and cannot imagine a better place in which to care for kids.
Dr. Hansen sees and treats children for the whole range of pediatric neurosurgical issues, but has special interests in minimally invasive surgery, endoscopic surgery, tumors and epilepsy. He works closely with the NeuroOncology and Epilepsy teams to provide cutting edge, patient centered treatment using the most up-to-date information and treatment options.
Outside of the hospital he enjoys spending time with his family, including three kids of his own, traveling and cooking.
Services
Epilepsy surgery

Brain tumor surgery

Endoscopic craniosynostosis surgery

Endoscopic brain tumor surgery
Affiliations
Congress of Neurosurgical Surgeons, American Association of Neurological Surgeons, AANS/CNS Section on Pediatric Neurological Surgery,Cook Children's Physician Network
Education
Medical School:
2008 University of Kansas School of Medicine, Kansas City, KS and Wichita, KS
Residency:
2008-14 University of Iowa Hospitals and Clinics, Iowa City, IA Neurosurgery Resident|2011-13 Postdoctoral Fellowship, Human Brain Research Lab|2013-14 Neurosurgery Chief Resident, R6|2014-2015 Neurosurgery Associate Fellow, R7
Board Certifications:
American Board of Neurological Surgery
Patient Ratings
Is there anyone you would like to recognize or anything else you would like to say about your experience?