Return to Nav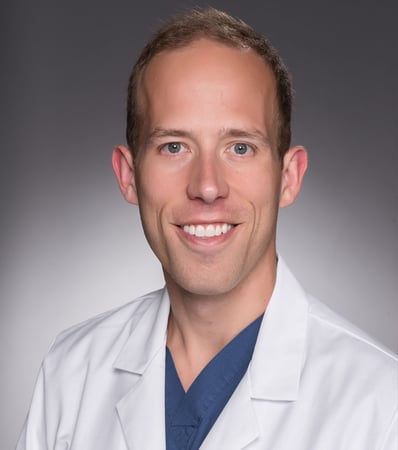 Daniel Hansen

, MD
Medical Director, Neuro-Trauma; Neurosurgeon
Meet Dr. Daniel Hansen
Dr. Daniel Hansen hails from the land of the Jayhawks (Kansas) and has bounced throughout the midwest during his medical career. He completed his medical training through the University of Kansas Medical School in both Kansas City and Wichita. From there he moved north to the field of dreams (Iowa) to complete his neurosurgery residency at the University of Iowa Hospital and Clinics. His travels next took him to that great city to the south, Houston, where he completed a fellowship in pediatric neurosurgery through Texas Children's Hospital. During his training he serendipitously m​et the neurosurgery group at Cook Children's, and as they say, the rest is history. He joined the practice at Cook Children's Medical Center in 2016 and cannot imagine a better place in which to care for kids.
Dr. Hansen sees and treats children for the whole range of pediatric neurosurgical issues, but has special interests in minimally invasive surgery, endoscopic surgery, tumors and epilepsy. He works closely with the NeuroOncology and Epilepsy teams to provide cutting edge, patient centered treatment using the most up-to-date information and treatment options.
Outside of the hospital he enjoys spending time with his family, including three kids of his own, traveling and cooking.
Services
Epilepsy surgery

Brain tumor surgery

Endoscopic craniosynostosis surgery

Endoscopic brain tumor surgery
Affiliations
Congress of Neurosurgical Surgeons, American Association of Neurological Surgeons, AANS/CNS Section on Pediatric Neurological Surgery,Cook Children's Physician Network
Education
Medical School:
2008 University of Kansas School of Medicine, Kansas City, KS and Wichita, KS
Residency:
2008-14 University of Iowa Hospitals and Clinics, Iowa City, IA Neurosurgery Resident|2011-13 Postdoctoral Fellowship, Human Brain Research Lab|2013-14 Neurosurgery Chief Resident, R6|2014-2015 Neurosurgery Associate Fellow, R7
Board Certifications:
American Board of Neurological Surgery
Research & Publications
Publications
Papadelis C, Conrad SE, Song Y, Shandley S, Hansen D, Bosemani M, Malik S, Keator C, & Perry MS. Case report: Laser ablation guided by state of the art source imaging ends an adolescent's 16-year quest for seizure freedom. Front.Hum.Neurosci. 2022:16:826139. doi: 10.3389/fnhum.2022.826139 (PubMed ID 35145387)
Karsy M, Akbari SH, Limbrick D, Leuthardt EC, Evans J, Smyth MD, Strahle J, Leonard J, Cheshier S, Brockmeyer DL, Bollo RJ, Kestle JR, Honeycutt JH, Donahue DJ, Roberts RA, Hansen DR, Riva-Cambrin J, Sutherland G, Gallagher C, Hader W, Starreveld Y, Hamilton M, Duhaime A, Jensen RL, & Chicoine MR. Evaluation of pediatric glioma outcomes using intraoperative MRI: a multicenter cohort study. J.Neurooncol. 2019:143(2):271-280. doi: 10.1007/s11060-019-03154-7 (PubMed ID 30977059)
Aldave G, Hansen D, Briceno V, Luerssen TG, & Jea A. Assessing residents' operative skills for external ventricular drain placement and shunt surgery in pediatric neurosurgery. J.Neurosurg.Pediatrics. 2017:19(4):377-383. doi:10.3171/2016.10.PEDS16471 (PubMed ID 28128705)
Aldave G, Hansen D, Hwang SW, Moreno A, Briceño V, & Jea A. Spinal column shortening for tethered cord syndrome associated with myelomeningocele, lumbosacral lipoma, and lipomyelomeningocele in children and young adults. J.Neurosurg.Pediatr. 2017:19(6):703-710. doi: 10.3171/2017.1.PEDS16533 doi (PubMed ID 28362188)
Lin Y, Hansen D, Sayama CM, Pan IW, & Lam S. Transfrontal and transsphenoidal approaches to pediatric craniopharyngioma: A national perspective. Pediatr.Neurosurg. 2017:52(3):155-160. doi:10.1159/000455919 (PubMed ID 28226329)
Raskin JS, Hansen D, Mohan A, Pan IW, Curry DJ, & Lam S. Perioperative antibiotic use in vagus nerve stimulator implantation: a clinical series. Childs Nerv.Syst. 2017:33(5):801-804. doi:10.1007/s00381-017-3379-0 doi (PubMed ID 28321533)
Vedantam A, Hansen D, Briceño V, Brayton A, & Jea A. Patient-reported outcomes of occipitocervical and atlantoaxial fusions in children. J.Neurosurg.Pediatr. 2017:19(1):85-90. doi: 10.3171/2016.8.PEDS16286 (PubMed ID 27791706)
Wagner KM, Raskin JS, Hansen D, Reddy GD, Jea A, & Lam S. Surgical management of lipomyelomeningocele in children: Challenges and considerations. Surg.Neurol.Int. 2017:8:63-7806.205268. doi: 10.4103/2152-7806.205268 (PubMed ID 28540129)
Gadgil N, Hansen D, Barry J, Chang R, & Lam S. Posterior fossa syndrome in children following tumor resection: Knowledge update. Surg.Neurol.Int. 2016:7(Suppl 6):179. doi:10.4103/2152-7806.178572 (PubMed ID 27057398)
Hansen D, Kan PT, Reddy GD, Mohan AC, Jea A, & Lam S. Pediatric knowledge update: Approach to the management of vein of Galen aneurysmal malformations in neonates. Surg.Neurol.Int. 2016:7(Suppl 12):317. doi:10.4103/2152-7806.182415 (PubMed ID 27274404)
Hansen D, Vedantam A, Briceño V, Lam SK, Luerssen TG, & Jea A. Health-related quality of life outcomes and level of evidence in pediatric neurosurgery. J.Neurosurg.Pediatr. 2016:18(4):480-486. doi:10.3171/2016.3.PEDS15641 (PubMed ID 27341609)
Hansen DR, Reddy GD, Schwabe A, & Jea A. Constriction band at the craniocervical junction in Maroteaux-Lamy syndrome. Spine J. 2016:16(4):231. doi:10.1016/j.spinee.2015.10.015 (PubMed ID 26482985)
Reddy GD, Hansen DR, Patel A, Lin Y, Jea A, & Lam S. Treatment options for pediatric craniopharyngioma. Surg.Neurol.Int. 2016:7(Suppl 6):174. doi:10.4103/2152-7806.178570 (PubMed ID 27057397)
Srinivasan VM, Ghali MG, North RY, Boghani Z, Hansen D, & Lam S. Modern management of medulloblastoma: Molecular classification, outcomes, and the role of surgery. Surg.Neurol.Int. 2016:7(Suppl 44):S1135-S1141. doi:10.4103/2152-7806.196922 (PubMed ID 28194300)
Vedantam A, Hansen D, Briceño V, Moreno A, Ryan SL, & Jea A. Interhospital transfer of pediatric neurosurgical patients. J.Neurosurg.Pediatr. 2016:18(5):638-643. doi:10.3171/2016.5.PEDS16155 (PubMed ID 27447345)
Vedantam A, Hansen DR, Daniels B, & Lam S. Massive sialadenitis resulting in critical airway after elective craniotomy: case report. J.Neurosurg.Pediatr. 2016:18(4):475-479. doi:10.3171/2016.3.PEDS15621 (PubMed ID 27258589)
Behroozmand R, Shebek R, Hansen DR, Oya H, Robin DA, Howard MA,3rd, & Greenlee JD. Sensory-motor networks involved in speech production and motor control: an fMRI study. Neuroimage. 2015:109:418-428. doi:10.1016/j.neuroimage.2015.01.040 (PubMed ID 25623499)
Menezes AH, Greenlee JD, Longmuir RA, Hansen DR, & Abode-Iyamah K. Syringohydromyelia in association with syringobulbia and syringocephaly: case report. J.Neurosurg.Pediatr. 2015:15(6):657-661. doi:10.3171/2014.11.PEDS14189 (PubMed ID 26030334)
Greenlee JD, Behroozmand R, Larson CR, Jackson AW, Chen F, Hansen DR, Oya H, Kawasaki H, & Howard MA,3rd. Sensory-motor interactions for vocal pitch monitoring in non-primary human auditory cortex. PLoS One. 2013:8(4):e60783. doi: 10.1371/journal.pone.0060783 (PubMed ID 23577157)
Albert GW, Dahdaleh NS, Reddy C, Hansen DR, Vogel TW, Kawasaki H, & Howard MA,3rd. Postoperative radiographic findings in patients undergoing intracranial electrode monitoring for medically refractory epilepsy. J.Neurosurg. 2010:112(2):449-454. doi:10.3171/2009.7.JNS09838 (PubMed ID 19698047)
Albert GW, Menezes AH, Hansen DR, Greenlee JD, & Weinstein SL. Chiari malformation Type I in children younger than age 6 years: presentation and surgical outcome. J.Neurosurg.Pediatr. 2010:5(6):554-561. doi:10.3171/2010.3.PEDS09489 (PubMed ID 20515326)
Nordestgaard BG, Chapman MJ, Ray K, Boren J, Andreotti F, Watts GF, Ginsberg H, Amarenco P, Catapano A, Descamps OS, Fisher E, Kovanen PT, Kuivenhoven JA, Lesnik P, Masana L, Reiner Z, Taskinen MR, Tokgozoglu L, Tybjaerg-Hansen A, & European Atherosclerosis Society Consensus Panel. Lipoprotein(a) as a cardiovascular risk factor: current status. Eur.Heart J. 2010:31(23):2844-2853. doi:10.1093/eurheartj/ehq386 (PubMed ID 20965889)
Reddy CG, Dahdaleh NS, Albert G, Chen F, Hansen DR, Nourski K, Kawasaki H, Oya H, & Howard MA,3rd. A method for placing Heschl gyrus depth electrodes. J.Neurosurg. 2010:112(6):1301-1307. doi:10.3171/2009.7.JNS09404 (PubMed ID 19663547)
Burns JM, Donnelly JE, Anderson HS, Mayo MS, Spencer-Gardner L, Thomas G, Cronk BB, Haddad Z, Klima D, Hansen DR, & Brooks WM. Peripheral insulin and brain structure in early Alzheimer disease. Neurology. 2007:69(11):1094-1104. doi: 69/11/1094 (PubMed ID 17846409)
Presentations
Hansen D, Honeycutt J, & Donahue DJ. Current spread from bugbee wire during monopolar cautery application within a ventricular catheter. Technical note. 2022 ACMG Annual Clinical Genetics Meeting, Nashville, TN. March 22-26, 2022, 29(3) 21. doi:10.3171/2022.3.PEDS.ASPN2022Abstracts
Hansen, DR Laser ablation vs. resection. Texas Pediatric Neuroscience Network Conference, Houston, Texas. March 4-6, 2022
Karsy M, Cheshier S, Hassan Akbari S, Limbrick D, Leuthardt EC, Evans J, Smyth MD, Strahle J, Leonard J, Brockmeyer DL, Bollo RJ, Kestle JR, Honeycutt JH, Donahue DJ, Roberts RA, Hansen DR, Sutherland G, Gallagher C, Hader W, Starreveld Y, Hamilton M, Duhaime A-, Jensen RL, & Chicoine MR. Evaluation of pediatric glioma outcome using intraoperative MRI: A cohort study using I-mind (IMRIS multicenter IMRI neurosurgery database). 18th International Symposium on Pediatric Neuro-Oncology, ISPNO 2018, Denver, CO. June 30 - July 3, 2018. doi:10.1093/neuonc/noy059
Hansen, DR. Health related quality of life outcomes and level of evidence in pediatric neurosurgery. Pediatric Neurological Surgery Annual Meeting, Seattle, Washington. December 8-11, 2015