Return to Nav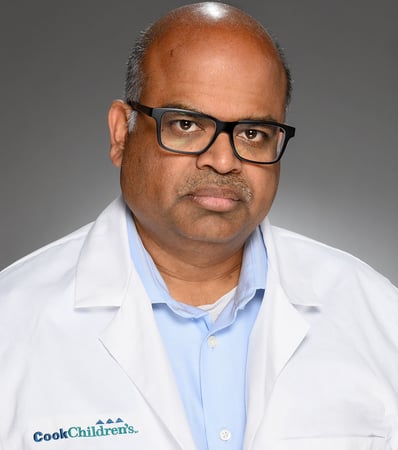 Dr. Vinai Modem
Language(s):
English

,

Telugu

,

Kannada

,

Hindi
Meet Dr. Vinai Modem
Dr. Vinai Modem has been interested in pediatrics from his very first clinical rotation in medical school. As he went through the training, he developed a passion for taking care of vulnerable, critically ill and medically complex children. Dr. Modem is amazed by the resilience of sick children and their families and is extremely grateful to have the opportunity to help them get better.
Dr. Modem obtained his basic medical education in India and immigrated to the United States for his residency and fellowship training. He is board certified in three specialties: pediatrics, pediatric critical care medicine and pediatric nephrology. Dr. Modem specializes in taking care of critically ill children and children with kidney problems. He has particular interest in kidney related issues in acutely ill and critically ill children. Dr. Modem also spends a considerable amount of time performing clinical research to advance the field further in this area. He has presented his research at various national and international conferences.
During his spare time he enjoys spending time with his family. He is an avid enthusiast of cricket.
Services
Critical Care Medicine

Nephrology
Affiliations
Society of Critical Care Medicine, American Society of Nephrology, Cook Children's Physician Network
Education
Medical School:
Bangalore Medical College Bangalore University - Bangalore India,
Residency:
Brooklyn Hospital Center - Brooklyn NY
Board Certifications:
Board Certified in Pediatrics

Subcertifications in Pediatric Nephrology and Pediatric Critical Care Medicine
Recognitions:
2019 Dean's Teaching Excellence Award McGovern Medical School UTHealth

2018 Dean's Teaching Excellence Award Pediatrics McGovern Medical School UTHealth
Patient Ratings
Is there anyone you would like to recognize or anything else you would like to say about your experience?