Choosing Our Team
Our program is designed for young ladies with concerns related to reproductive health and development, including menstrual concerns like heavy bleeding or irregular periods, hormonal imbalances, pelvic pain, concerns about development, ovarian cysts or masses, or to initiate a reproductive health visit.
Meet Dr. Shanna Combs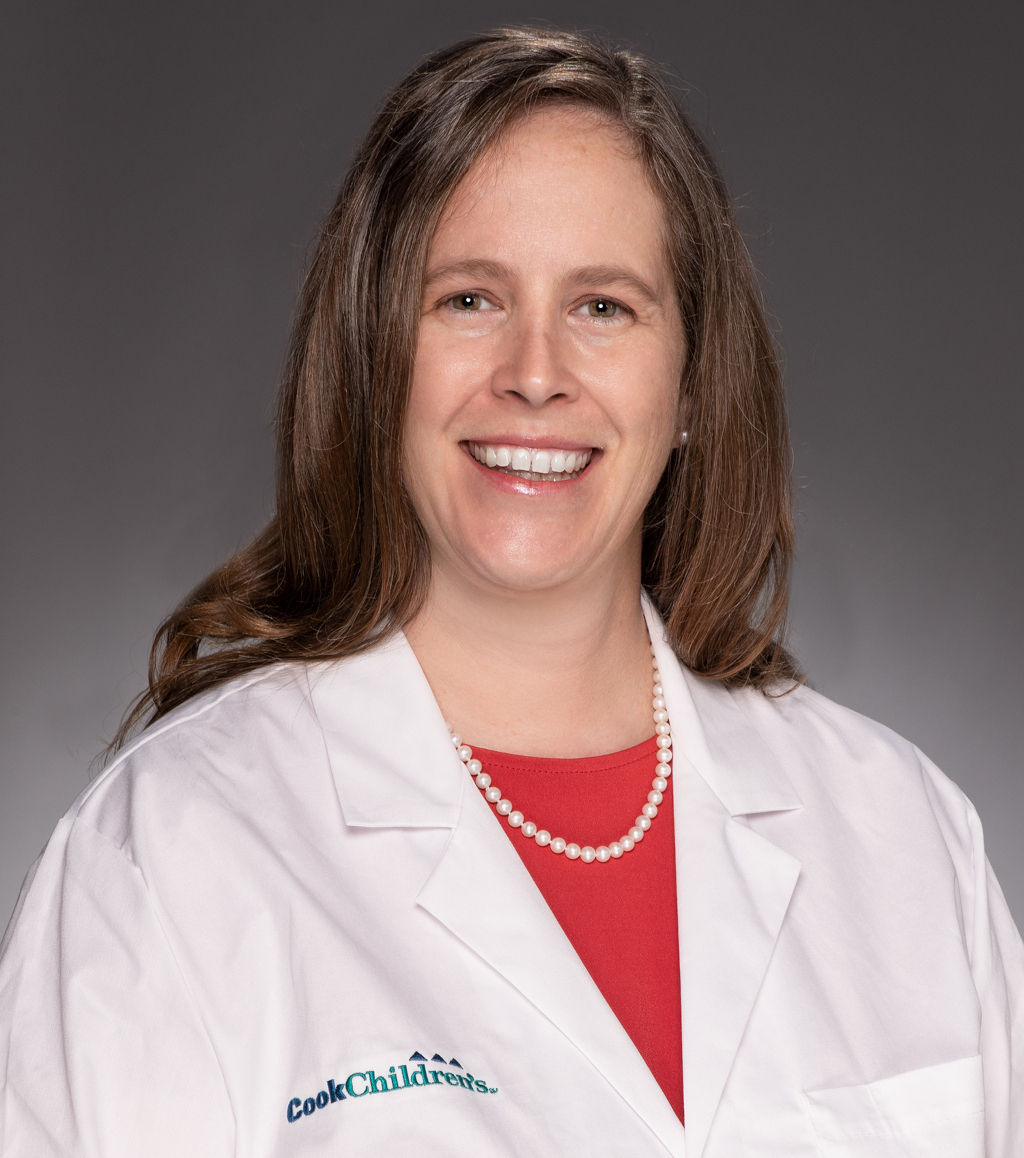 Meet our women's health nurse practitioner
Jaime Jordan, WHNP-BC
Jaime is a born and raised Texan. She grew up in Arlington and graduated with her Bachelor of Science in Nursing from Texas Christian University. She launched her nursing career in Ft. Worth and soon found her calling: caring for women, infants and children. In 2005, Jaime earned her Master of Science in Nursing from Texas Woman's University and became a women's health nurse practitioner (WHNP).
As a board certified WHNP, Jaime has continued to pursue her passion, caring for patients in the local community for over 20 years. With a special interest in the adolescent population, she is excited to be a part of the Cook Children's Pediatric and Adolescent Gynecology team and a member of the Cook Children's family. When she's not at work, you will find her cooking for family and friends and chasing her Labrador Retrievers.
Why should parents choose a pediatric gynecologist over a regular OB-GYN?
Our goal is to ensure we provide our younger female patients with an environment that makes them feel comfortable. A pediatric setting is one that our patients are familiar with. Additionally, some OB-GYN's are not as comfortable seeing and treating pediatric and adolescent patients. This is a population that Dr. Combs has a high comfort level in taking care of. There is also an added level of comfort of seeing a female gynecologist, especially for their first visit for female health or problems.
What should parents look for that might indicate their child needs to see a pediatric OB-GYN?
Any concerns related to female development (breast development, hair growth, periods)
Problems with their periods (pain, heavy, irregular, seems to be too late or too early, no periods or periods have stopped)
Wanting to suppress menstrual cycles
Vaginal discharge, itching or irritation
Sexually active
Need for birth control
Pelvic pain
Ovarian cysts
Premenstrual syndrome (PMS)
Mood changes with menstrual cycles
How do you make a patient feel more comfortable during their exam?
To ensure our patients are comfortable, Dr. Combs only performs a pelvic exam when it is needed, and typically does not do them at the first introductory appointment. She prefers to meet her patients fully dressed, and will only have them get undressed for the exam. Patients will get dressed again before discussing any work-up, diagnoses or treatments. When an exam is needed, we ask the patient who they want with them during the exam as well as describe what the exam involves prior to getting them ready/undressed for the exam. During the exam, we talk them through everything we are doing and give them the option to stop the exam at any time. We fully understand the anxiety that comes with a pelvic exam, therefore we try to make the patient as comfortable as possible before and during the exam.
Will you see pregnant patients?
We will only see pregnant patients for an initial visit to confirm pregnancy. If the pregnancy is confirmed, we will refer to an outside obstetrician for prenatal care.